City of St. Johns Open Swim Starts Tonight!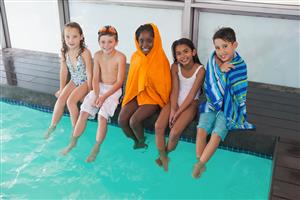 Open swim starts tonight!
Winter Open Swim
Open Swim sessions are on Fridays beginning Jan. 7 from 6:30-8:00pm at the St. Johns High School Pool. Please access the pool through the school's Activities Entrance. You can also pay per visit at the door. To save time at the pool please print off and fill out the registration form below and bring it to open swim.
DAILY RATES
Adults: $4
Youth: $3
Family visit pass: $12

Assisted swimmers (floaties, life jackets, etc…) must have an adult with them in the pool.
Please fill out the form below and bring to the pool or visit the city's website:
Visit the City of St. Johns Recreation Department for forms and more information.
Visit the SJSportsPage Calendar for Open Swim and other community sporting events.
Jennifer LeVeck
Loan Officer / NMLS 377177
Union Home Mortgage
Sea Lions Defend "The Iceberg" in Youth Swimming
The St. Johns Sea Lions hosted the Owosso Sea Turtles Wednesday night at St. Johns High Schools.  The team swam to a dominant 452 to 156 win, moving them to 4-1 on the season. New State qualifying times (via Sea Lions Facebook page): Taylor Alexander 100 Free, 100IM, and now 50 Fly Liam Gram 50…
Middle School Swim/Dive Competes at Conference Finals
The St. Johns Middle School Swim/Dive team competed at their Conference meet this weekend.  The dive meet was held at Grand Ledge on Friday and the Swim meet was held at Dewitt HS on Saturday. Boys Top 8 performances: Medley Relay 6th: Christian Simmons, Jack Armstrong, Marshall Hirschman, Gavin Moreno 200 Freestyle: 5th Marshall Hirschman…
Redwing Wrestling Results at Lakewood Invitational
Lakewood Invitational Results for St Johns HS Full Scoreboard Schedule/Standings Redwing Wrestling Team Updates Sponsored by: 103 Sean Pettigrew (20-4) placed 2nd and scored 16.0 team points. Quarterfinal – Sean Pettigrew (St Johns HS) 20-4 received a bye () (Bye) Semifinal – Sean Pettigrew (St Johns HS) 20-4 won by fall over Dylan Leyendecker (Hudsonville HS)…